Cleanroom Foam Swab FS707 Skumpinne
Beskrivning:
Mediclean Cleanroom Skumrengöringsvattenschip FS707 har ett rektangulärt, stort huvud och ett långt handtag. Handtaget är tillverkat av 100% polypropen, som är styv och flexibel. Dess polyuretanskumhuvud ger utmärkt lösningsmedelabsorberande kapacitet. Det används främst vid rengöring av allmänna rengöringsmedel av stora ytor. FS707 Cleanroom Steril Swab är ett bra val för att ta bort rester, olja, bläck från tryckskrivare för termisk skrivare, bläckstråleskrivare, Kontrollera skannerns transportrullar etc.
Kompatibel med:
- Texwipe Cleanroom Foam Swabs TX707
Kontakta Mediclean för mer Texwipe kompatibla Cleanroom Foam Swabs.
Specifikation:
- Modellnummer: FS707
- Huvudmaterial: 100 PPI Polyuretanskum
- Handtag Material: 100% Polypropylen
- Hantera färg: Grön (Vit, Svart, Blå finns tillgänglig på förfrågan)
- Standarder uppfyllda: Klass 10 ISO-klass 4 Certifierad
Dimensionskarta:

Funktioner:
- Stor, rektangulär huvud och långt handtag
- Closed-polyuretanskum huvud
- Termisk bindningsteknik eliminerar limförorening
- Utmärkt lösningsmedelskapacitet
- Kompatibel med vanligaste lösningsmedel
- Mjuk och icke-slipande
- Låg icke-flyktig restnivå
- Låg jonhalt
- ESD säkert handtag finns som tillval
Användningsområden:
- Rengöring av allmänt bruk för stor yta
- Rengöring med IPA eller andra lösningsmedel
- Använd smörjmedel eller andra vätskor
- Ta bort flussrester och överflödiga material
Förpackning:
100 swabs / väska
2 innerpåse med 50 swabs
50 påsar / väska
Föroreningsegenskaper:
Property

Measurement

Test Method*

Nonvolatile Residue(NVR)

TM10: Procedure for Determining the Nonvolatile Residue (NVR) Extractable from Swabs in a Given Solvent

IPA Extractant

0.02 mg/swab

Ions

TM12: The Determination of Ions in Wipers and Other Materials by Capillary Ion Analysis (CIA)

Chloride

<0.01 μg/swab

Sulfate

<0.01 μg/swab

Nitrate

<0.01 μg/swab

Phosphate

<0.01 μg/swab

Fluoride

<0.01 μg/swab

Potassium

<0.01 μg/swab

Calcium

<0.01 μg/swab

Sodium

<0.01 μg/swab

Magnesium

<0.01 μg/swab
*: Testförfaranden finns på begäran.
ESD-egenskaper:
Hantera resistivitet: 10 8 - 10 9 Ohm / Sq (Valfritt)
Bild: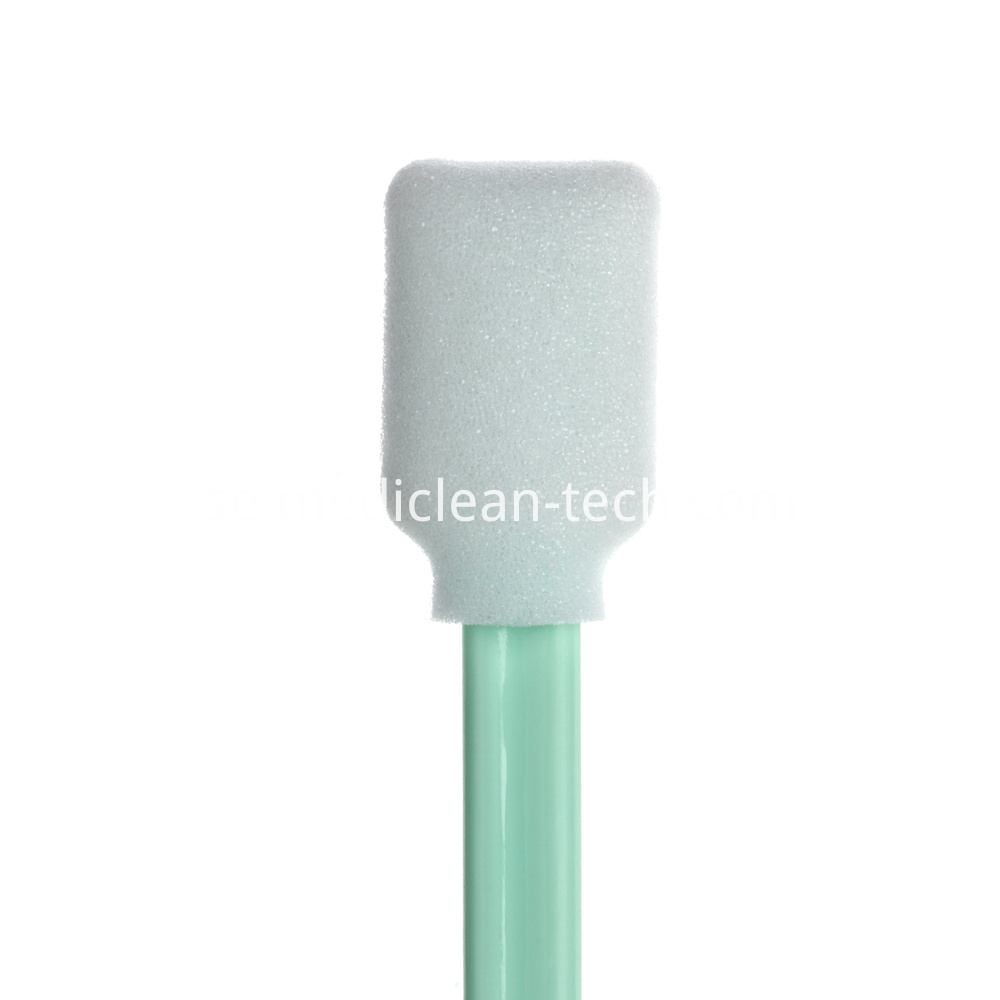 Produktkategorier : Cleanroom Swabs > Cleanroom Foam Swabs