Cleanroom Foam Swab FS708 Rengöringsplattor
Beskrivning:
Medicleans Cleanroom Sterile Swab FS708 har ett rundat stort huvud och ett långt handtag. FS708 Skumrengöringsplattor är speciellt konstruerade för att rengöra böjda eller sneda områden. Termisk bindning ger mindre förorening. 100% polypropylenhandtag ger enkel användning. Dess slutna cell polyuretan skum huvud ger utmärkt lösningsmedel hållfasthet och hållbarhet. Huvudanvändningen omfattar: rengöring av skrivarhuvud, rengöringskurvytor, medicinsk antiseptisk desinfektion, etc.
Kompatibel med:
- Texwipe Cleanroom Foam Swabs TX708
Kontakta Mediclean för mer Texwipe Compatible Sterile Clean Foam Swab.
Specifikation:
- Modellnummer: FS708
- Huvudmaterial: 100 PPI Polyuretanskum
- Handtag Material: 100% Polypropylen
- Hantera färg: Grön (Vit, Svart, Blå finns tillgänglig på förfrågan)
- Standarder uppfyllda: Klass 10 ISO-klass 4 Certifierad
Dimensionskarta:

Funktioner:
- Stor, rundad huvud och långt handtag
- 100 PPI polyuretanskum i slutet cell
- Termisk bindning eliminerar limförorening
- Utmärkt lösningsmedelskapacitet
- Kompatibel med vanligaste lösningsmedel
- Låg icke-flyktig restnivå, låg jonhalt
- Ekonomisk för högkvalitativa applikationer
- ESD-handtaget är tillgängligt som kundförfrågan
Användningsområden:
- Allmänna rengöringar för ytan
- Mikro mekanisk rengöring
- Rengöring av skrivarhuvud och transportrullar
- Ta bort lim och lim
- Använd smörjmedel eller andra vätskor
- Ta bort flussrester och överflödiga material
Förpackning:
100 swabs / väska
2 innerpåse med 50 swabs
50 påsar / väska
Föroreningsegenskaper:
Property

Measurement

Test Method*

Nonvolatile Residue(NVR)

TM10: Procedure for Determining the Nonvolatile Residue (NVR) Extractable from Swabs in a Given Solvent

IPA Extractant

0.02 mg/swab

Ions

TM12: The Determination of Ions in Wipers and Other Materials by Capillary Ion Analysis (CIA)

Chloride

<0.01 μg/swab

Sulfate

<0.01 μg/swab

Nitrate

<0.01 μg/swab

Phosphate

<0.01 μg/swab

Fluoride

<0.01 μg/swab

Potassium

<0.01 μg/swab

Calcium

<0.01 μg/swab

Sodium

<0.01 μg/swab

Magnesium

<0.01 μg/swab
*: Testförfaranden finns på begäran.
ESD-egenskaper:
Hantera resistivitet: 10 8 - 10 9 Ohm / Sq (Valfritt)
Bild: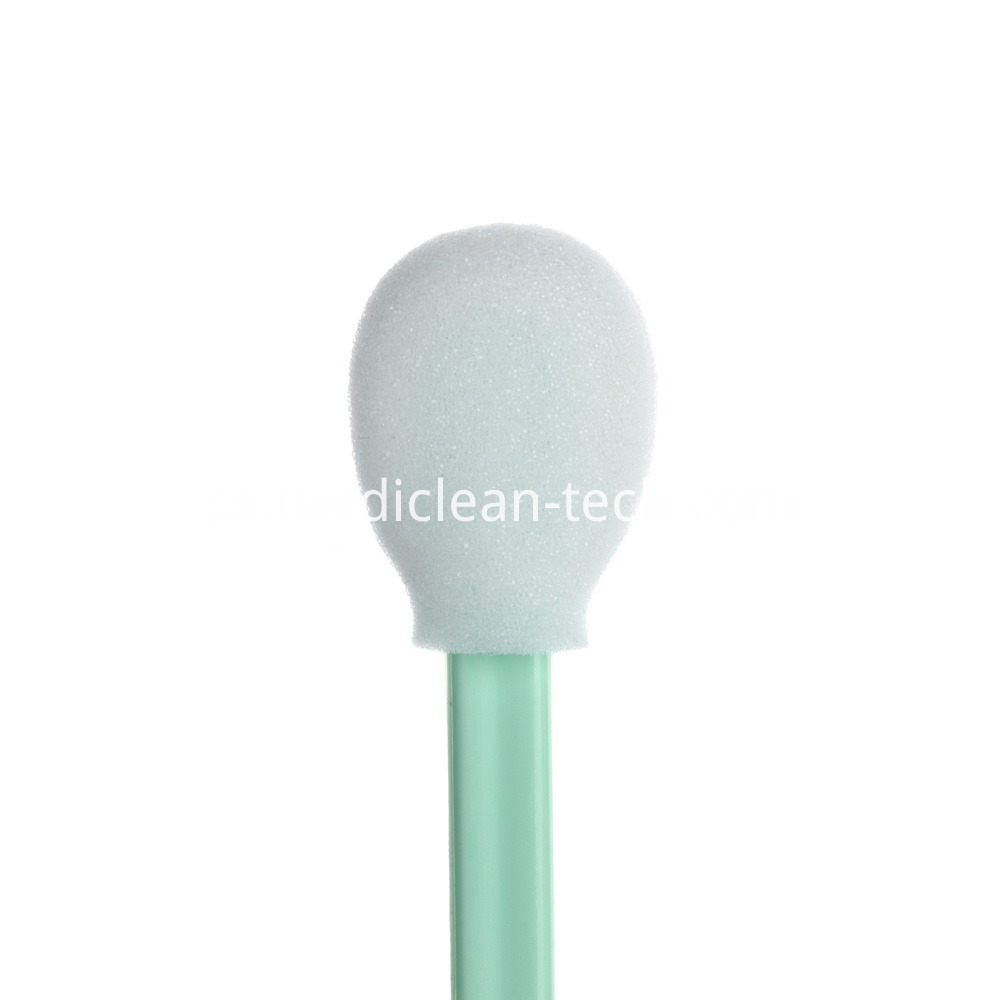 Produktkategorier : Cleanroom Swabs > Cleanroom Foam Swabs