Cleanroom Microfiber Fabric Swab MS758
Beskrivning:
Mediclean Cleanroom Microfiber Tips Swabs MS758 är gjorda av dubbla lager stickad mikrofiber polyester som har hög hållfasthet och utmärkt kompatibilitet med aggressiva lösningsmedel. Cleanroom Steril Microfiber Swab MS758 är ett perfekt alternativ för rengöring av små slitsar och svåråtkomliga områden. Microfiber har fler mikroporer över polyester vilket resulterar i bättre infångningsförmåga hos mikropartiklar. Termisk bindning genererar inte limförorening. Clean Room Microfiber Swab MS758 är fri från organisk kontaminering som silikon och amid. Tvättade och förpackade i klass 10 cleanroom garanterar första klassens renlighet.
Kompatibel med:
- Texwipe TX758 cleanroom mikrofiberpinne
Kontakta oss för mer Texwipe-kompatibel Microdenier Cleanroom Swab
Specifikation:
- Modellnummer: MS758
- Huvudmaterial: 100% Microfiber
- Handtag Material: 100% Polypropylen
- Hantera färg: Grön (Vit, Svart, Blå finns tillgänglig på förfrågan)
- Standarder uppfyllda: Klass 10 ISO-klass 4 Certifierad
Dimensionskarta:

Funktioner:
- Litet, kompakt huvud och styvt handtag
- Dubbellager stickat microfiber polyesterhuvud
- Slitstarkt och hållbart tips
- Värmebindning genererar inte limförorening
- Utmärkt kompatibilitet med hårda lösningsmedel, såsom IPA, aceton, svavelsyror
- Utmärkt fångkapacitet för mikropartiklar
- Fri från organisk kontaminering
- Finns i ESD-handtag
Användningsområden:
- Rengöring av allmänna ändamål för ytor
- Rengör liten lucka och begränsade ytor
- Provtagning av ytor och validering av tillverkningens renhet
- Rengöring av hårddiskdrivrutinsytor och komponenter
- För användning med aggressivt lösningsmedel
- Plocka upp mikropartiklar, damm
- Mikro mekanisk rengöring
Förpackning:
500 swabs / väska
5 innerpåsar med 100 swabs
100 påsar / väska
Föroreningsegenskaper:
Property

Measurement

Test Method*

Nonvolatile Residue(NVR)

TM10: Procedure for Determining the Nonvolatile Residue (NVR) Extractable from Swabs in a Given Solvent

IPA Extractant

0.02 mg/swab

Ions

TM12: The Determination of Ions in Wipers and Other Materials by Capillary Ion Analysis (CIA)

Chloride

<0.01 μg/swab

Sulfate

<0.01 μg/swab

Nitrate

<0.01 μg/swab

Phosphate

<0.01 μg/swab

Fluoride

<0.01 μg/swab

Potassium

<0.01 μg/swab

Calcium

<0.01 μg/swab

Sodium

<0.01 μg/swab

Magnesium

<0.01 μg/swab
*: Testförfaranden finns på begäran.
ESD-egenskaper:
Hantera resistivitet: 10 8 - 10 9 Ohm / Sq (Valfritt)
Bild: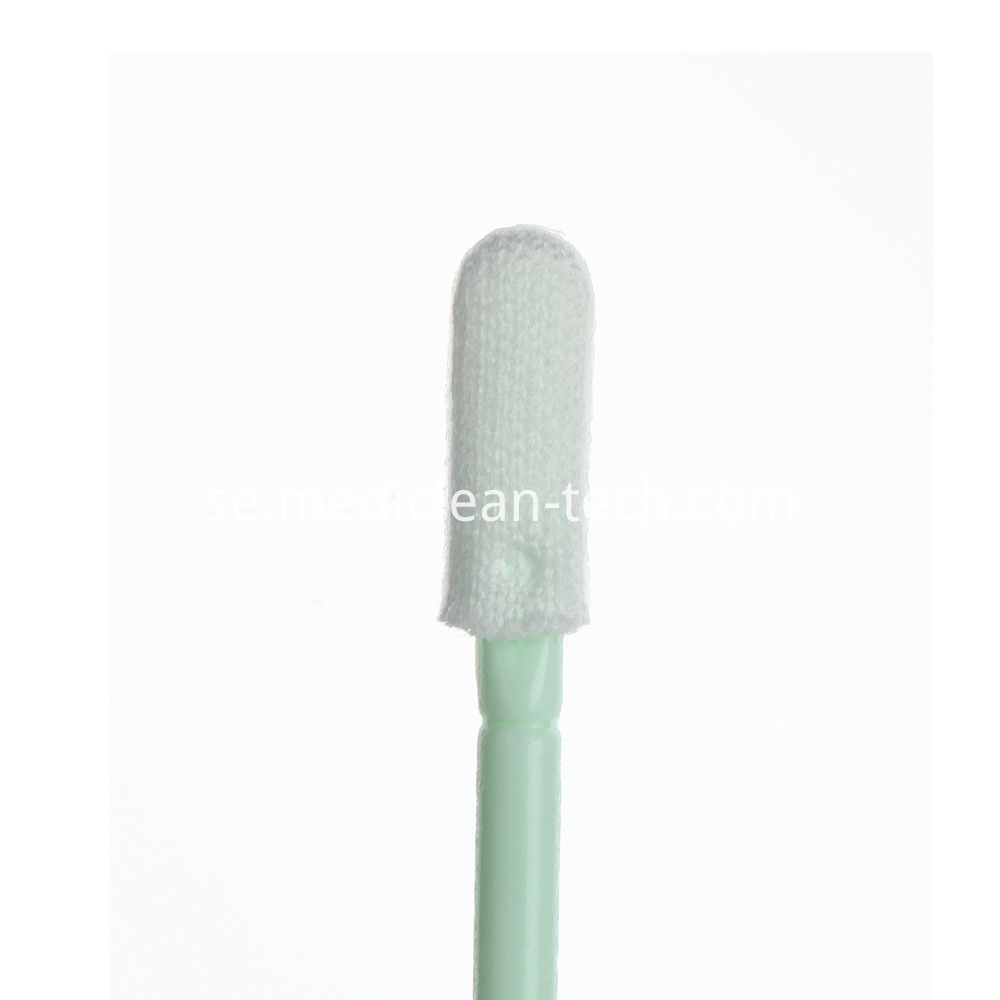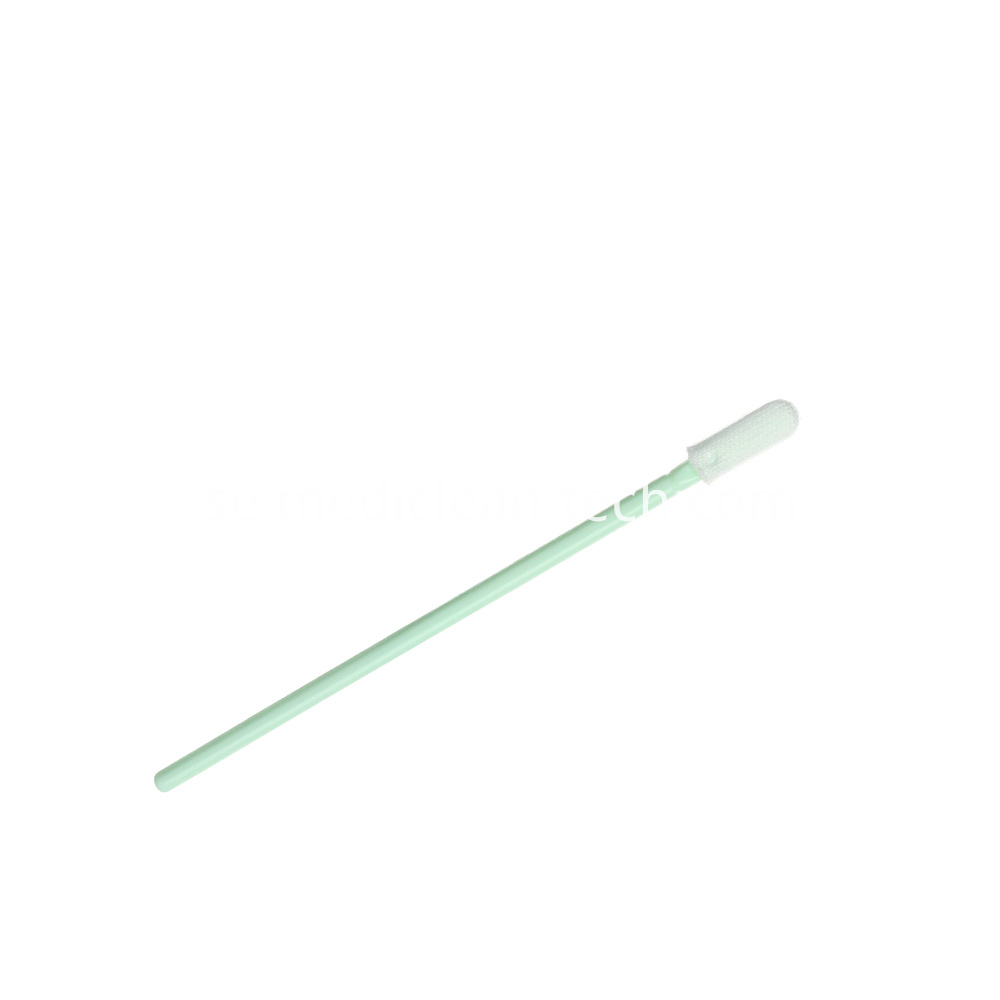 Produktkategorier : Cleanroom Swabs > Cleanroom Microfiber Swabs