Cleanroom Polyester Swab PS714 Alpha
Beskrivning:
Mediclean Cleanroom Polyester Swabs PS714 har ett stort rektangulärt huvud och ett långt handtag. Cleanroom Polyester Swabs PS714 är gjorda av lintfritt polyesterhuvud. Handtaget är styvt och flexibelt ger god kontroll och användarvänlighet. Polyesterhuvudet är termiskt bunden till handtaget utan att använda lim. Rengöringsnivån är perfekt för kontrollerad rengöring och ytprovtagning.
Kompatibel med:
- Texwipe Polyester Cleanroom Swab TX714
Kontakta oss för fler artiklar som är kompatibla med Texwipe Cleanroom Polyester Swabs
Specifikation:
- Modellnummer: PS714
- Huvudmaterial: 100% Polyester
- Handtag Material: 100% Polypropylen
- Hantera färg: Grön (Vit, Svart, Blå finns tillgänglig på förfrågan)
- Standarder uppfyllda: Klass 10 ISO-klass 4 Certifierad
Dimensionskarta:

Funktioner:
- Stor, rektangulär huvud och långt, styvt handtag
- Dubbelt stickat polyesterhuvud, hög hållfasthet och hållbarhet
- Termiskt bundet polyesterhuvud
- Lintfri konstruktion genererar inte lös fiber eller partiklar
- Kan användas med lösningsmedel för hårda markar
- Flexibelt handtag och icke-slipande huvud
- Låg icke-flyktig restnivå, låg jonhalt
- ESD säkert handtag finns som tillval
Användningsområden:
- Rengöring av allmänt bruk för stor yta
- Rengör optisk yta och magnethuvud
- För provtagning och rengöring av ytor
- Rengör komponenter i hårddiskdrivrutinen
- Rengör mikromekaniska delar och tillbehör
- Rengör ytor för flygindustrin
Förpackning:
100 swabs / väska
2 innerpåse med 50 swabs
50 påsar / väska
Föroreningsegenskaper:
Property

Measurement

Test Method*

Nonvolatile Residue(NVR)

TM10: Procedure for Determining the Nonvolatile Residue (NVR) Extractable from Swabs in a Given Solvent

IPA Extractant

0.02 mg/swab

Ions

TM12: The Determination of Ions in Wipers and Other Materials by Capillary Ion Analysis (CIA)

Chloride

<0.01 μg/swab

Sulfate

<0.01 μg/swab

Nitrate

<0.01 μg/swab

Phosphate

<0.01 μg/swab

Fluoride

<0.01 μg/swab

Potassium

<0.01 μg/swab

Calcium

<0.01 μg/swab

Sodium

<0.01 μg/swab

Magnesium

<0.01 μg/swab
*: Testförfaranden finns på begäran.
ESD-egenskaper:
Hantera resistivitet: 10 8 - 10 9 Ohm / Sq (Valfritt)
Bild: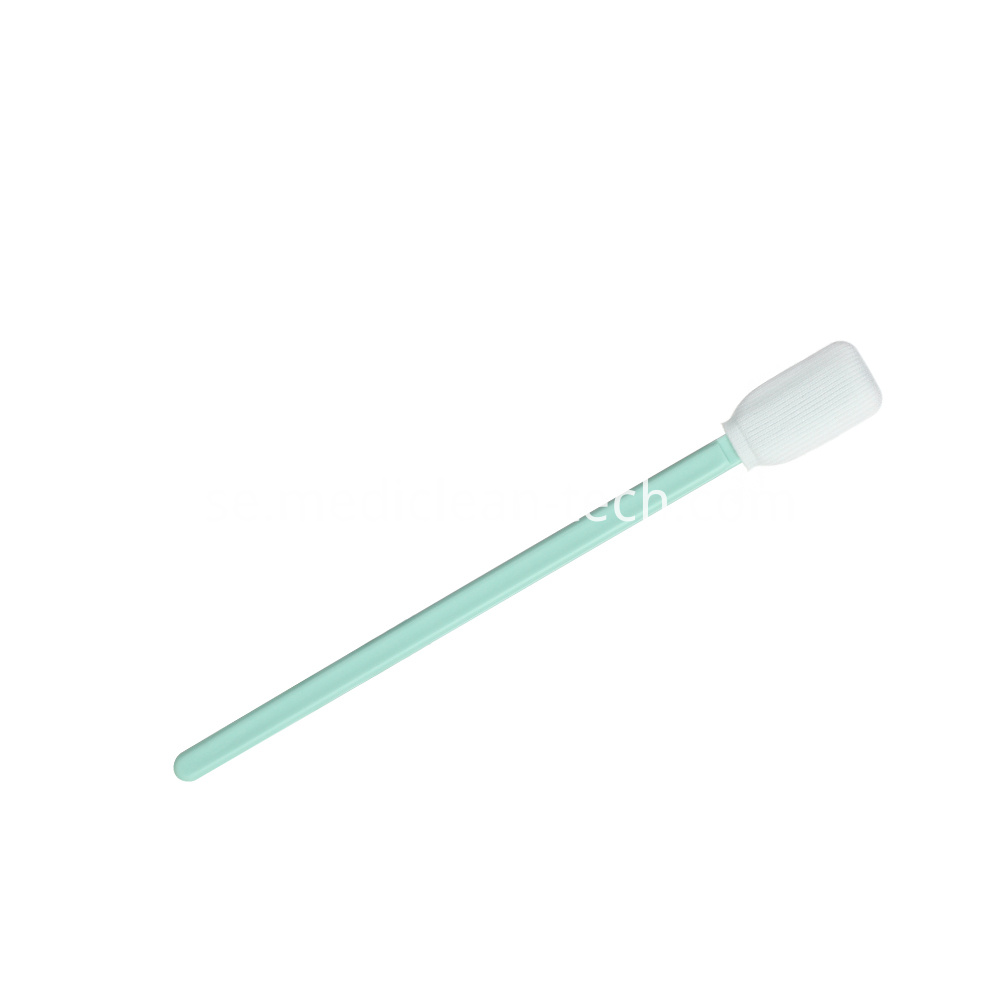 Produktkategorier : Cleanroom Swabs > Cleanroom Polyester Swabs