Cleanroom Polyester Tipped Swab Small Compressed PS768


Beskrivning:
Mediclean Polyester Tipped Swabs PS768 har ett litet rundspets och 3 "kort handtag. Den används ofta i telefontillverkning, PCB-tillverkning. Det kan effektivt avlägsna damm och skräp från elektroniskt PCB-kort under tillverkningen. Godt val för högtoleransarbete. Ett styvt handtag ger ett stabilt stöd för att avlägsna envis fläck. Tillverkad och tvättad i klass 10 cleanroom garanterar hög renhetsgrad. Polyesterhuvudet är termiskt bunden till handtaget utan att använda lim. Cleanroom Polyester Swabs PS768 är bra för allmän användning samt högkvalitativ applikation.

Kompatibel med:
- Texwipe TX768 renrum polyesterpinne
Kontakta oss för fler artiklar som är kompatibla med Texwipe Cleanroom Polyester Swabs

Dimensionskarta:

Funktioner:
- Litet, krökt huvud
- Förseglad med högtrycksvärme kommer inte att lösas
- Utan fluorescerande

Användningsområden:
- Rengör gömstället och området
- För montering av elektroniska tillbehör
- Rengör mikromekaniska delar och tillbehör
- Rengör svårt för svårt att nå hörnet

Förpackning:
500 swabs / väska
5 innerpåsar med 100 swabs
100 påsar / väska

Föroreningsegenskaper:
Property

Measurement

Test Method*

Nonvolatile Residue(NVR)

TM10: Procedure for Determining the Nonvolatile Residue (NVR) Extractable from Swabs in a Given Solvent

IPA Extractant

0.02 mg/swab

Ions

TM12: The Determination of Ions in Wipers and Other Materials by Capillary Ion Analysis (CIA)

Chloride

<0.01 μg/swab

Sulfate

<0.01 μg/swab

Nitrate

<0.01 μg/swab

Phosphate

<0.01 μg/swab

Fluoride

<0.01 μg/swab

Potassium

<0.01 μg/swab

Calcium

<0.01 μg/swab

Sodium

<0.01 μg/swab

Magnesium

<0.01 μg/swab
*: Testförfaranden finns på begäran.
ESD-egenskaper:
Hantera resistivitet: 10 8 - 10 9 Ohm / Sq (Valfritt)
Bild: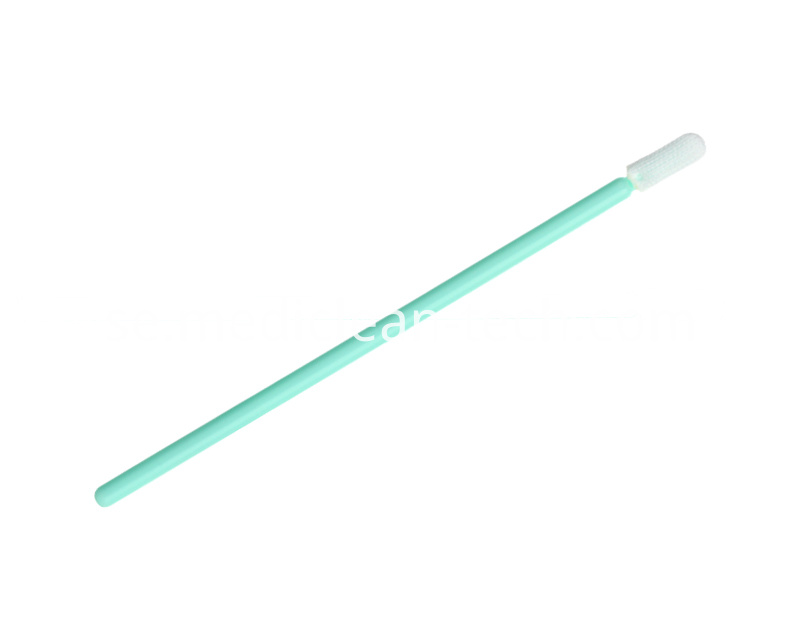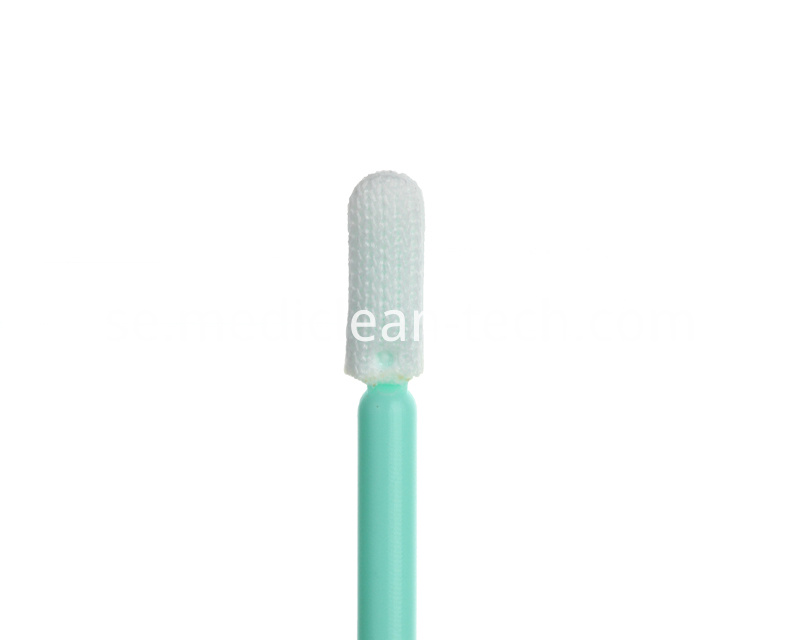 Produktkategorier : Cleanroom Swabs > Cleanroom Polyester Swabs